Procurement and Planning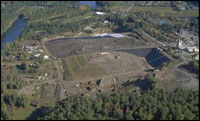 Successful solid waste management projects require careful planning, incorporating engineering, environmental, business, legal, and regulatory considerations. CMA Engineers has been an integral member of project teams responsible for the planning of all types of solid waste management facilities.
Solid waste management projects also, in many cases, require successful public/private partnerships, combining the best capabilities of both the public and private sectors. CMA Engineers has a long track record of assisting in the procurement of services and in the negotiation of contracts, including those of modest proportions, and others having contract values of several hundred million dollars.