Construction Services
CMA Engineers is a construction engineering firm …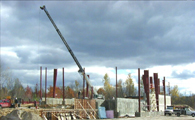 CMA Engineers maintains the capability to provide construction administration, bidding assistance, resident engineering and inspection, quality assurance, and complete construction management services.
On projects designed by CMA Engineers, appropriate services are provided depending upon project requirements, structure of the construction contract, and the capabilities and availability of the owner's personnel.
We strive to anticipate problems before they occur when we can in order to resolve construction issues before there are costly delays and disputes. We also have a well-grounded understanding of construction contract documents, and strive to instill that perspective in all of our staff members.