Civil Engineering
CMA Engineers is a civil engineering firm …

CMA Engineers provides comprehensive planning, design, and construction engineering services on a variety of types of general civil engineering projects.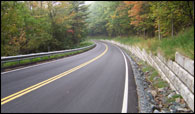 Our municipalities' basic civil engineering infrastructure was largely constructed in the 1950's and 1960's, and many utility piping systems in our older communities are in excess of 100 years old. Major repairs and reconstruction have not been a high political priority until recent years, in many communities, and the roadways, drainage structures and utilities don't last forever.
It is critical that our roadways, bridges and culverts, and utilities be reconstructed in a prioritized, focused, and cost-effective manner so that our infrastructure can continue to adequately serve the public. In the future, maintaining what we have will likely be as important as building new facilities.
CMA Engineers provides services in the following types of civil engineering projects:
Roadway reconstruction
Intersection improvements
Slope stabilization
Utilities
Stormwater management
Streetscape improvements
Site development
Drainage