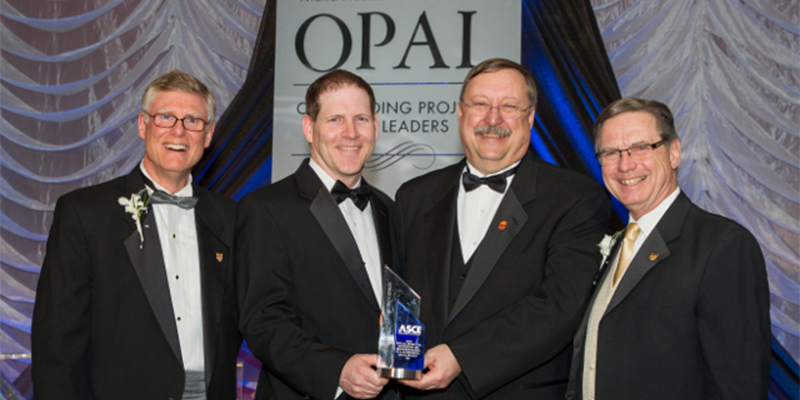 CMA Engineers' projects receive state and national awards based on
engineering innovation.
2013 NH Outstanding Civil Engineering Achievement Award, and ASCE 2013 Special Award for Innovation
and Resourcefulness in a Noteworthy Small Project • NATIONAL AWARD
"The essence of good engineering." —ASCE Award Jury
AVRRDD Mt. Carberry landfill leachate siphon "pumping wastewater" with no energy use or moving parts.
2013 American Academy of Environmental Engineers and Scientists (AAEES) Grand Prize Award in the
Small Project category • Geothermal Energy Project, North Country Environmental Services landfill,
Bethlehem, NH • NATIONAL AWARD
CMA Engineers principals receive the Grand Prize award from AAEES president-elect Christian Davies-Venn
at the National Press Club in Washington, D.C.
American Public Works Association (APWA) National Project of the Year, Historic Preservation Category,
2003 • NATIONAL AWARD
Historic Holman Stadium, Nashua, NH (the site where minor league baseball was integrated in 1946 when
Don Newcombe and Roy Campanella played for the Class A Nashua Dodgers).
Outstanding Civil Engineering Achievement Award, 2010, American Society of Civil Engineers, NH Section
Transformation of State Street, Portsmouth, NH. Complete reconstruction of utilities, including wastewater/
stormwater separation and stormwater treatment, with construction of pedestrian- and business-friendly
complete street.